The new seventy meter sailing yacht Sybaris, from Perini Navi, has left the shed today – revealing her magnificent design – as construction phases go on the 2nd biggest Perini ever made.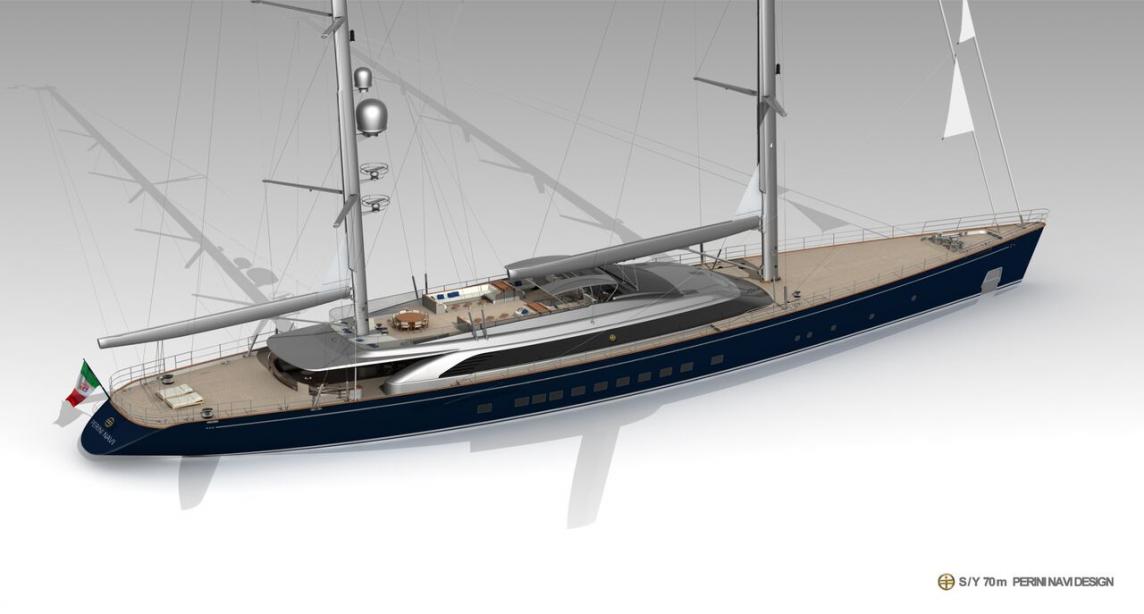 The dynamic and powerful lines of Sybaris – projected in house by Perini Navi Technical and Design office – are all set to boast unequaled sailing prowess thanks to Philippe Briand's perceptivity into the sail plan and naval architecture.
According to Plain Sailing, her seventy-two and sixty-two meter masts, hosting a sail plan of over three thousand square meter, are only part of the innovations formulated with the specific target of meliorating the overall operational efficiency as well as performance under sail.
The weight of this vessel is just less than the biggest one made by the company – The Maltese Falcon. The interior is made by PH Design, a US based company, who was selected by the Owner. The whole internal atmosphere is custom-designed and the concept epitomizes the luxurious allure of Sybaris.
PH Design's founder Peter Hawrylewicz told that they wanted to create an interior that would be perceived as special and original in the yachting world. For example, they decided that the boat must have titanium ceilings to softly bounce the light and to compliment the muted tones of the American Ash millwork. He added that the titanium is selected in other places of the yacht including the doors and the custom hardware.